BUILD YOUR GOLF CART ONLINE SOFTWARE
for Dealers
Build. Quote. Sell More Products.
Visually allow YOUR clients to custom build their own golf cart in real time with your pricing, features and accessories. The online golf cart builder software allows YOUR clients to have a better buying experience through control in the build, saving you time and generating quality leads.
2019 Build Your Golf Cart App released (mobile friendly)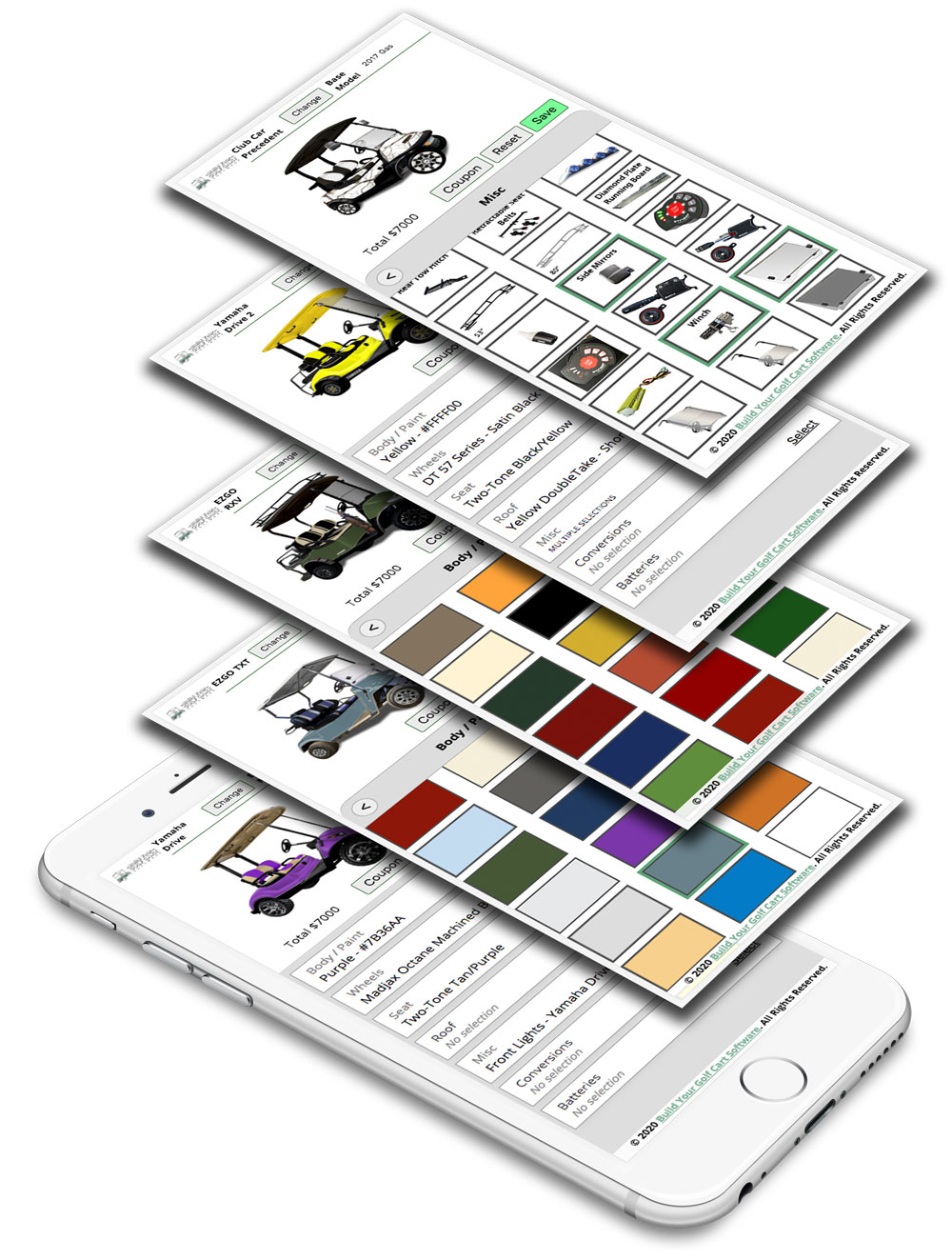 ---
HISTORY TIMELINE
2012 Build Your Cart launched
Build Your Own Custom Golf Cart today!
In 2012 Watermark Design enjoyed creating this unique website for All Season Motorsports in West Fargo, ND. Now, customers can see first hand what their custom golf cart will look like before they order it. Have fun designing your own golf cart!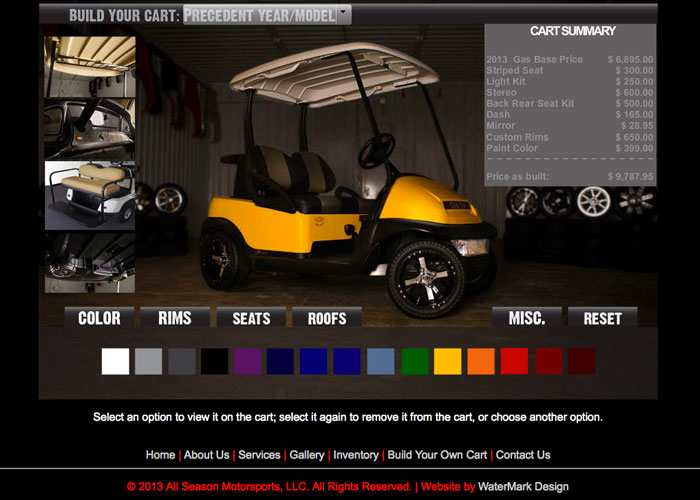 Would you like to sell more custom golf carts?
If so contact us and we can help your customers visualize what they want before they buy. Just ask All Season Motorsports and how the build your own custom golf cart online helped them increase business and satisfied customers. Making it easy and fun to build a custom golf cart online and get real prices!
2013-2017 Build Your Cart updated (v1)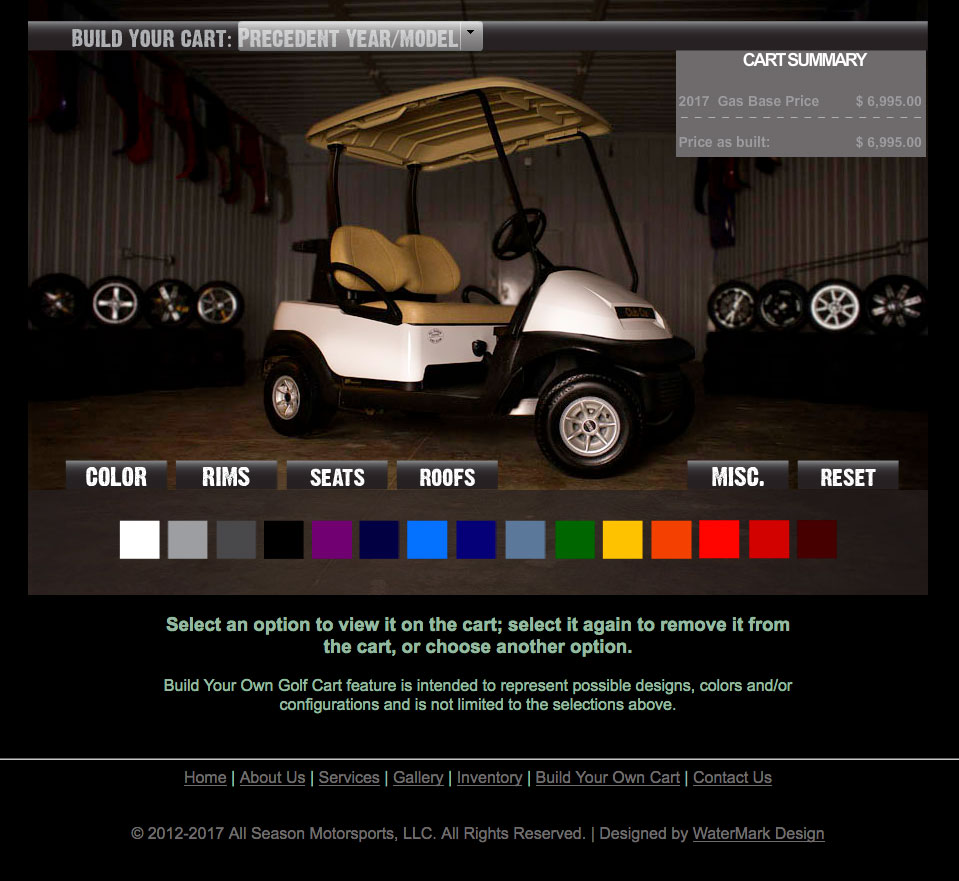 2015 Build Your Cart (v2)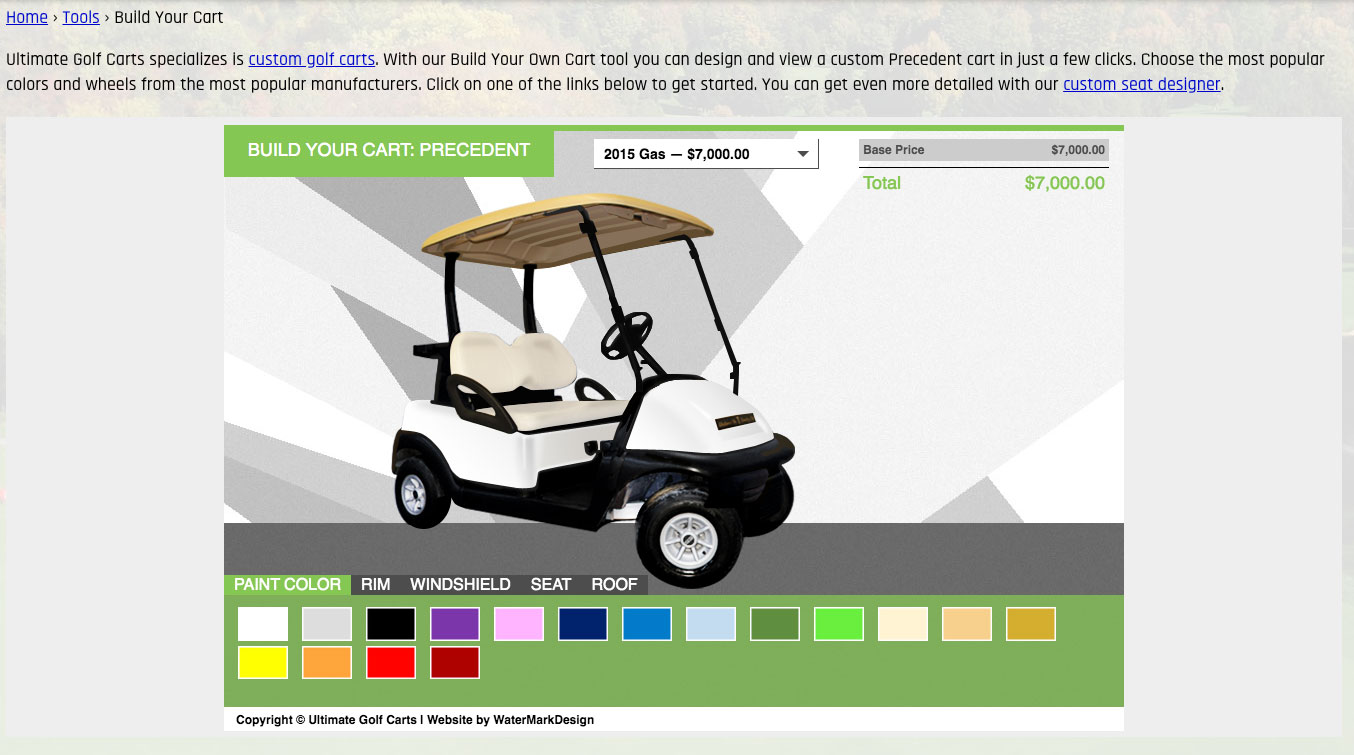 2015 Build Your Golf Cart Software released (v3)
NEW – Build Your Golf Cart Software released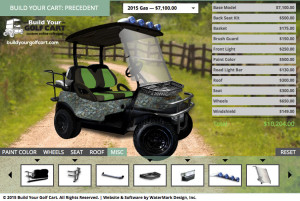 A new tool that will help you close sales with custom golf carts in your shop.
Released  9/28/15 – Try/Get the NEW Build Your Golf Cart Software and subscribe today!
We can have it up and running within your business in a couple weeks.
2016-2020 Build Your Golf Cart Online Software 
Highlights
2016 Yamaha Drive was added
2016 EZGO RXV was added
2016 Phantom body was added to Club Car Precedent
2016 New software layout updates and new parts added
2017 Dealer Dashboard now part of App – dealers can now make their own changes online in the app
2017 Double Take seats added
2017 More Parts added
2017 Dealer Dashboard (v4) launch
2018 Leads / Saved carts fix and update
2018 Google Analytics / Stats added to Dashboard
2018 Alpha bodies added to Club Car Precedent
2018 Print button added in Dashboard
2018 Two-Tone Seats added
2018 Diamond Stitch Seats added
2018 More Parts added
2018 New UI backend & backend features updated
2018 Coupon Codes added
2019 Yamaha Drive 2 added
2019 EZGO TXT added
2019 Mobile App release (v5)