You're ready to start your website project!
Here's what to expect.
Invoice, payment plan and contract signed.
50/25/25 payment plan – 50% down to start, 25% at the review phase, and the remaining 25% when the website is completed. If needed we can come up with a custom payment plan.
Dropbox folder setup and invited. For project files; logo, brand standards, images, content, hosting credentials (to upload new site when done).
Project Timeline emailed over.
Project starts and Dev site set up.
Collaboration tool set up on dev site for you to leave comments/edits directly on.
Once the website is approved we go live. Upload the website to the server.
Test website once live to make sure everything is working properly.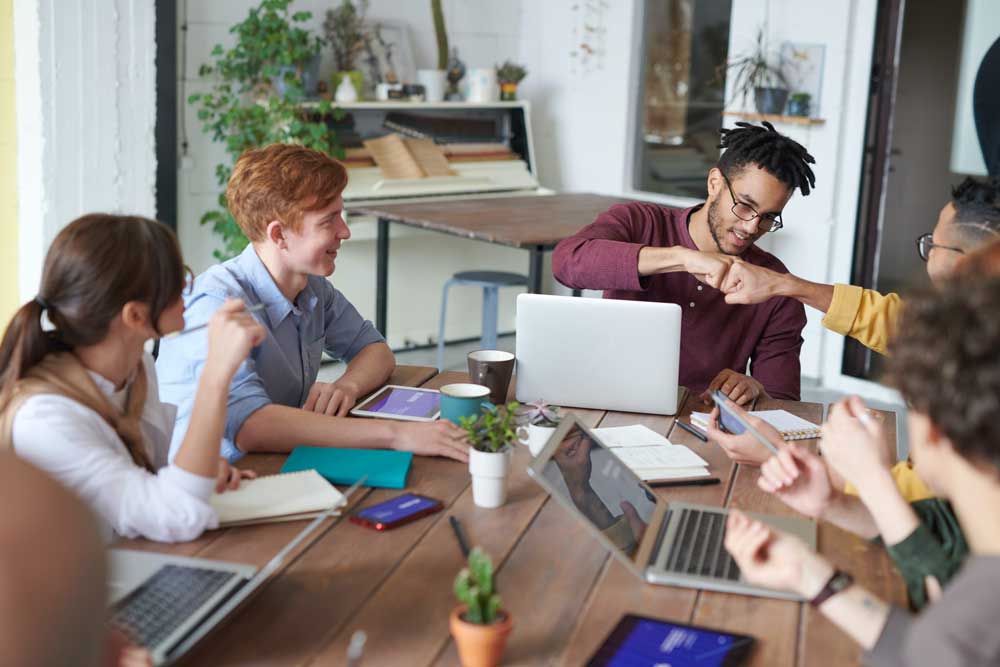 Tell us about your web project.
Here's an overview of what we need and to help guide you along before we begin!
5 Easy Steps
1) WHAT WE NEED TO GET STARTED
YOUR LOGO
PDF, EPS, AI, or high res JPEG.
HOSTING CREDENTIALS
Your hosting account login or Cpanel username and password.
BRAND STANDARDS
Brand standards; colors, fonts to follow for design requirements.
IMAGES & PICTURES
Current and/or new images & pictures you'd like to use on the site. (our photographer will go over with you)
CONTENT
Page content and any updated verbiage for the site. (our copywriter will go over with you)
WORDPRESS LOGIN
Administrator login to your current WordPress site. (if you have one)
These items can be uploaded to your Trello project board or uploaded to your secure Dropbox folder.
2) TRELLO
This is meant for tracking your website project. Trello is a collaboration tool that organizes your projects into boards. In one glance, Trello tells you what's being worked on, who's working on what, and where something is in the process. You can drag drop items into the columns as they move along from left to right.
Each item in the list is called a "card", and clicking on each card reveals details about the card that include the due date, label, messages, and file uploads.
Cards will be color coded with a labels to reflect Milestone due dates.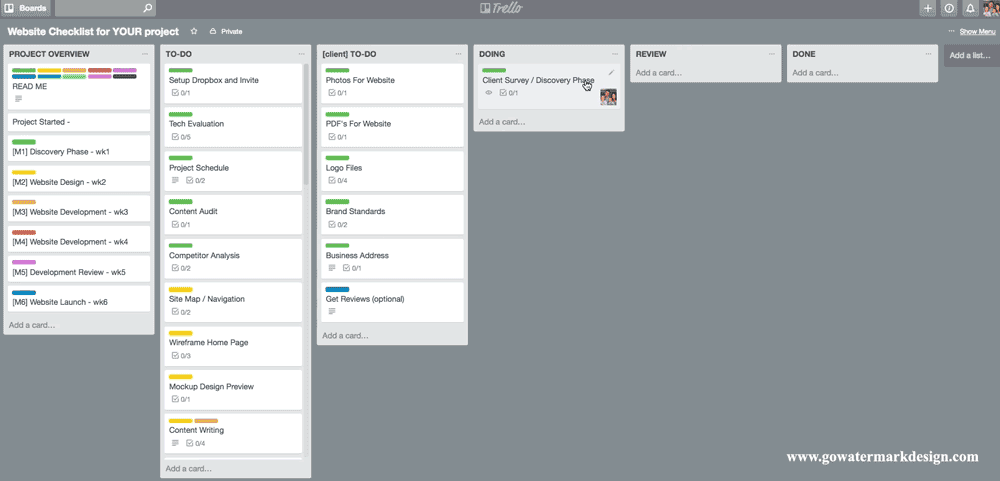 3) DROPBOX
Dropbox is a great online image/file sharing platform. This is a useful tool where we will save all your files. Such as photos, copy, logo/branding files, website backup and login credentials. We will setup a folder for the project and will share the folder with you via email. You can upload all your images and files there.

4) WEB DESIGN & DEVELOPMENT PROCESS
Designing a website is an extensive process. To better help you understand what to expect I will list it out my process in 3 main steps. You will be able to follow along in Trello on your project board, which shows items as they are completed.
1) LAYOUT AND DESIGN
A large part of designing a website is the planning and layout stage of the process. I'll create a sitemap (page/menu hierarchy) of the website for approval first. Then I will layout the wireframe (screen blueprint) of the home page and conclude with a visual (static image) for approval.
2) DEVELOPMENT
Once the website layout and design phase is approved, I'll move forward with designing the entire site. This will include pages, all functionality and plugins. We'll make sure your site is responsive (functioning across all devices and browsers).
3) EDITS & REVISIONS
Once the site is ready for the final review I will send you a link on a staging site url for you to review. This is where you review ALL pages to make sure all spelling, addresses and information are correct before going live.
EDITS & REVISIONS MADE EASY
Comment Directly on the Website Build
On the project staging / dev site url you get access to the Comment tool.
Here's where you can leave comments directly on the site as we build and review together.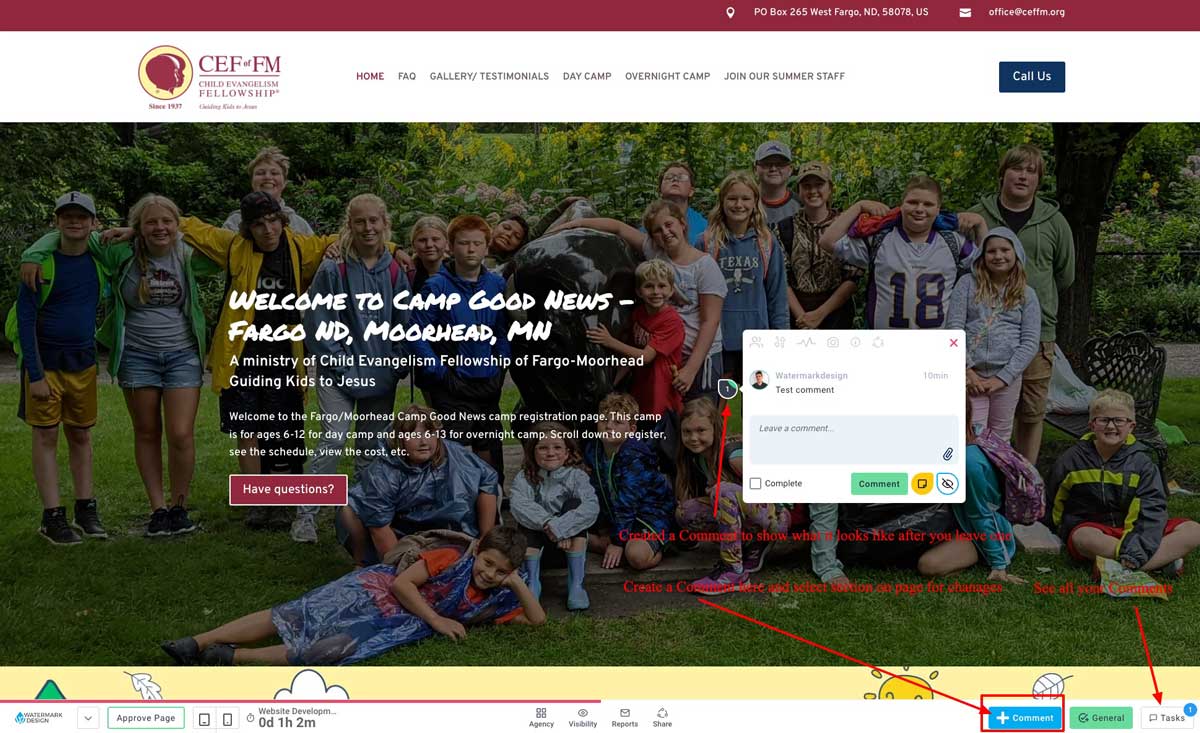 This tool will send you notifications as items are completed.
We move items along the project board from Open Task > In Progress > Pending Review > Completed. 

5) WRAPPING UP & GOING LIVE!
We now backup your website (save a copy in Dropbox) and upload it to your server. We remove all unnecessary plugins, backend files and check url links. Once live, it may take between 24-48 hours for the new site to show up on all devices. Some computers you will need to clear your browser cache and refreshed. This all depends on your computer, wifi connection and relation to your server.
You will receive a user login for your WordPress dashboard, so you can make edits to your site as needed. This is the time where we show you how to login into your website through WordPress and go through basic editing.
Upon completion, you'll receive a link to a "moving forward" page where you'll receive tips and tricks on what to do with your new website. Also information on our Maintenance/Security Plan which we highly recommend for all our clients.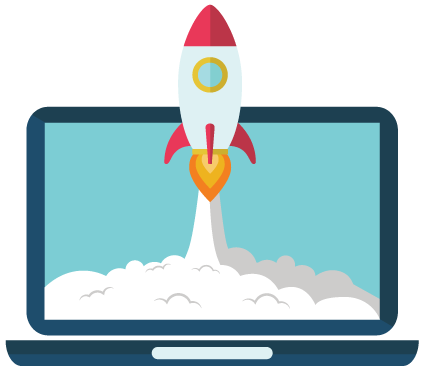 If you have any questions, feel free to call or email.