Construction work is full of uncertainties and things that are out of your control. The market goes through constant fluctuations and there may be times when you are scrambling to find new clients. One proven way for construction companies to attract work is through their website. But is hiring a website development company the best move?
The digital marketplace is primarily where you will have your initial interactions with leads and future clients. Therefore, your company's website is a virtual storefront that needs to accurately represent your construction business and the services you offer.
When you work with a website development company, your website is 100% in your control – and it can significantly help to keep business growth steady. Web design services can help construction firms stay in tune with how the industry is evolving online – here's how.
1. Keep Up with Competitors
Almost half of all Google searches are from customers looking for local businesses. When it comes to construction and contract work, this rate could be even higher. The bulk of your clients will come from local searches for "construction company near me" or similar phrasing.
Chances are that your construction business faces a lot of local competition. Having a solid digital presence and a fantastic website can give you a huge advantage.
The competitors that have been around 30 years aren't always the biggest threat. A good deal of these companies work via word-of-mouth and usually have an outdated website – if they've got any website at all.
Shockingly, 28% of smaller companies do not have a website and just 44% have any plans to create one. It's oftentimes the newer companies that entered the industry with a state-of-the-art website that pose the biggest competitive threat.
Investing in a professional website is the best way to keep pace with how others in the industry are getting projects. Customers will feel far more comfortable reaching out to a construction company that has a legitimate, well-built website over one that has no online presence.
2. Showcase Your Work Portfolio – The Right Way
Having a sound portfolio of all past work is crucial for a construction company. New leads will judge your business primarily based on your past work, as well as reviews and testimonials from previous clients. In today's business world, online reviews are deemed to be equally as reliable and trustworthy as personal recommendations by the majority of consumers.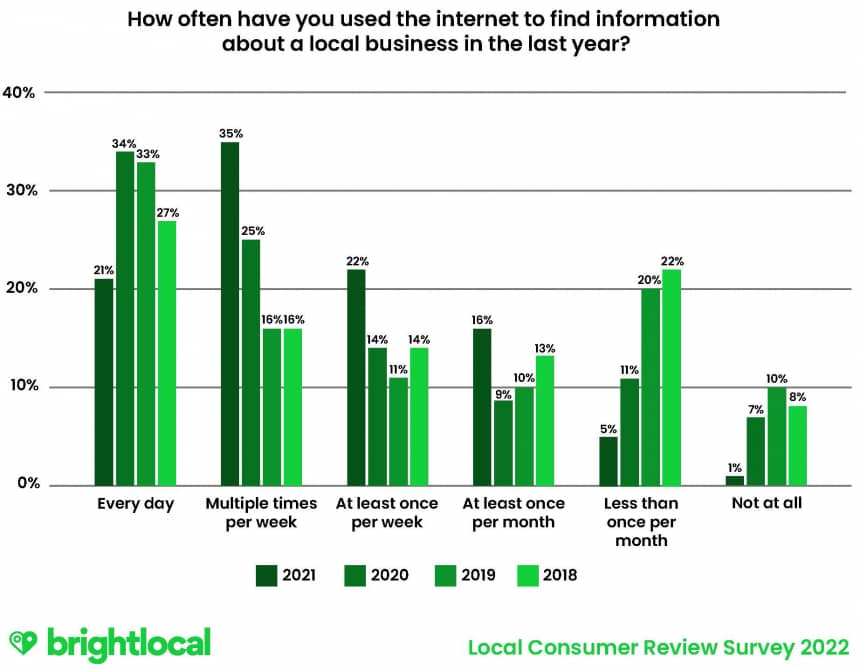 Displaying past jobs needs to be done carefully on your website. By partnering with a website development company, you can create pages highlighting before and after images – as well as videos of your past projects. You can also choose to incorporate positive feedback and ratings to quickly build trust with online visitors.
3. Navigate the Slow Season
Construction work has its ups and downs, and it tends to decrease during certain months of the year. But with a solid website, you can survive the "slower" seasons by attracting leads still looking for construction work.
If created and optimized properly, a professional website can help companies find and attract off-season projects. The trick here is SEO – Search Engine Optimization. In the simplest of terms, this is the process of designing and developing a website to be optimized for search engines like Google so your website will show up on relevant searches.
Lots of website design features can impact your SEO, such as the hosting service design theme and the number of keywords included on each page. Unless you're a marketing wizard yourself, SEO can be confusing – so it's highly recommended to use a website development company that offers SEO services.
4. Gain Visibility on Google
Another valuable service a website development company can provide is improving your presence on Google. When deciding between local search results, people will look for additional information to help them narrow down options. On Google, some of these features include:
Reviews (number of reviews as well as overall rating)
Featured images
Business information listed
Take a look at the search results for construction companies near St. Paul, MN, as an example.
You can see that each result offers a bit of information that could influence the customer's likelihood of selecting the link, like years in business and service specialties. These Google results are information pulled from their websites and Google My Business (GMB) profiles.
Most clients will choose a construction company based on local search visibility – including these GMB profiles, reviews, and the SEO structure of the website. A professional web development company will make sure these elements are in place to gain rankings.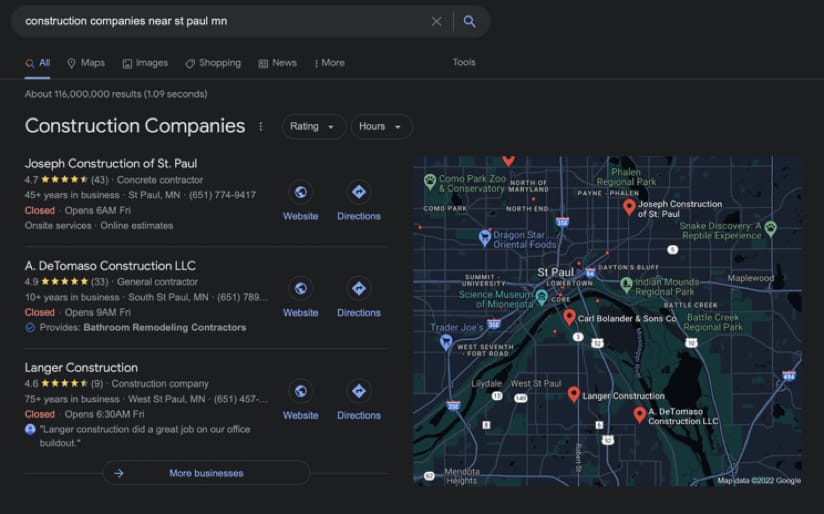 5. Accurately Measure Growth
The process of creating a website for your construction business does not end the day that it launches. Your site needs to be constantly evolving to improve its performance by including new content, images, reviews, or updating information.
Web development companies keep close tabs on how well their sites are attracting online traffic, generating leads, and creating conversions. If you're lucky enough to have an in-house marketing team, you know that tracking this data can be complex – but the information is incredibly helpful.
Having access to this digital data is key to measuring the online growth of a business. By working with a full-service website design company, you know that the developers will keep a close eye on these metrics and make changes as needed.
Looking for Website Design Services for Your Construction Company?
Building an impressive website is essential for local construction companies to grow and attract new leads. But having any basic cookie-cutter site will not do – you need one that is specifically optimized to align with your brand and drive in online traffic.
Watermark Design is a full-service website design company, which means we handle it all: web design, development, maintenance, hosting, and more. By working with Watermark Design, you'll be connected with web development experts to create a custom site to help your business grow.
To learn more about our website design services, reach out online and schedule an appointment to meet with our team!