Local SEO IN MAPLE GROVE, MINNESOTA
MAPLE GROVE SEO
Struggling to breathe new life into your brand? Let's transform your web traffic into LEADS.
It's what a trusted Maple Grove SEO Agency like ours does. It's our THING! Talk to our Maple Grove SEO experts today.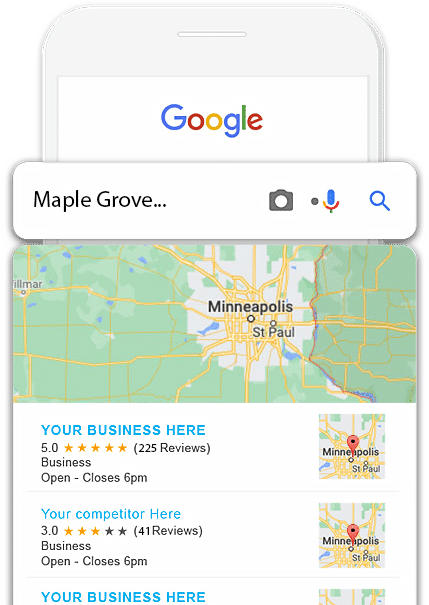 Grow Quality Website Traffic in Maple Grove
Congrats! You've Found Your Local Maple Grove SEO Company.
Whether you're operating an established business or just starting up, getting found online is a major factor in your success. Our Maple Grove SEO experts understand how to use search engine optimization tools to help you move up the search engine rankings and gain more online visibility.
Watermark Design has been successfully marketing businesses online for more than a decade. We can help you get found on Google, put you in front of new customers, and generate leads to increase your revenue.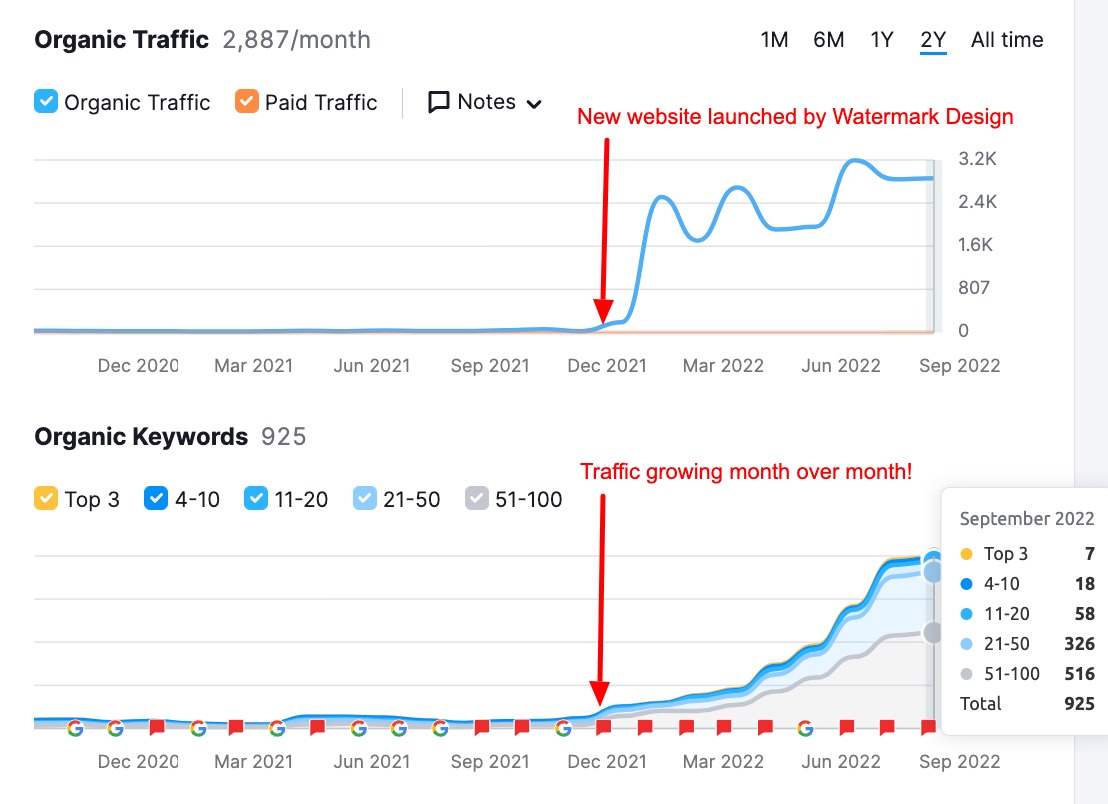 Hire the Best Maple Grove SEO Agency
Why Your Business Needs SEO in Maple Grove
If you do business in Maple Grove, you need local SEO support so customers can find you online. The internet is the first place people turn to for help and answers to their questions. They research companies and read reviews online. When you work with a Maple Grove SEO agency, your website will rank higher on Google and other search engines, which will increase clicks to your website. If you have a beautiful website (we can help with that!) and positive reviews (we can help with that, too!), your visitors will convert to qualified leads and increased revenue.
Real Maple Grove Clients with Real Results
Maple Grove SEO Results
Organic SEO Results
Real Client SEO Results #1
+128% keywords
+153% traffic
3 months
The proof's in the pudding. At Watermark Design, we've helped many companies rank for more keywords and get higher keyword rankings. Which leads to more organic traffic and sales.
In this example, after 3 months their organic keywords increased from 1,287 to 1,648 and organic traffic increased from 1,460 to 2,246 with our SEO expertise.
What type of results could we achieve for you and your business?
Real Client SEO Results #2
+23.5% traffic
+226.9% traffic cost
3 months
For this website we improved the site structure, content, usability and saw an immediate improvement in keyword rank, more keywords, traffic, and traffic cost.
In this example, after 3 months their traffic increased +23.41% and traffic cost +226.93% with our SEO expertise.
Do you need some fixes or updates on your website?
Or maybe a landing page that will bring traffic and leads?

Get a Personalized SEO Plan for Your Maple Grove Business
When you work with Watermark Design, we'll start the process with a no-obligation, no-cost SEO website audit. This is the first step in developing and implementing your personalized SEO plan for your Maple Grove business.
Audit
First, we'll provide a no-cost, no-obligation website and SEO audit to get a baseline on your company's online visibility.
Consult
Next, we'll schedule a consultation with you to go over the results of the audit and discuss your business and SEO goals.
Plan
With this information in hand, we'll create your personalized Maple Grove SEO plan.
Execute
Once you approve the plan, our local Maple Grove SEO team will put it into action.
Evaluate
After four to six months, we'll evaluate how the plan went and suggest further improvements to your website to foster business growth.
Manage
Now that your initial SEO plan is complete, we'll discuss next steps for maintaining your visibility online.
What You Can Expect from Us
Our relationship with you is our most important asset. We take pride in helping our clients reach their full potential online and stay ahead of their competition. At Watermark Design, it is our mission to help your Maple Grove business grow.
Personalized Maple Grove SEO Services
Setting up your business's website and maintaining its blog are just the first steps of getting found online.
An SEO strategy is what will move your company's website and content to the first page of Google.
At Watermark Design, we'll incorporate local maps, images, videos, and on-page SEO to improve your visibility and results.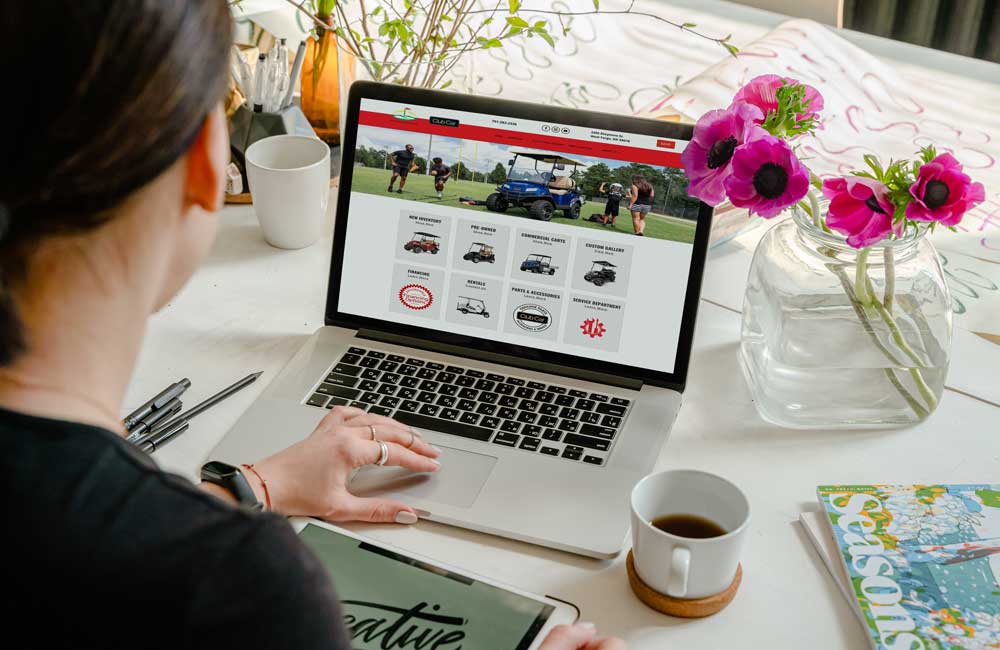 Maple Grove SEO Services FAQs
How much does SEO cost?
It depends on the type of services included in your personalized SEO plan. It is difficult to give an accurate estimate of costs before our no-obligation consultation. That said, our clients spend an average of $500 a month on SEO.
What are the benefits of SEO?
SEO improves your website's search engine rankings, making your company more visible to potential customers. In addition to higher visibility, SEO increases brand recognition, generates website clicks, and can convert visitors to leads and revenue.
What is SEO?
SEO is an online marketing strategy that increases the number of visitors who visit your website from a search engine search result. The higher your website appears in search results, the more likely people are to click through to your website. Google uses a complex algorithm that includes dozens of factors to decide how to rank pages in its search results. The best Maple Grove SEO companies use knowledge of these factors to help companies improve their performance.
Why do I need an SEO expert?
In short, SEO is a full-time job. It's not easy, it takes expertise, and requires consistent action to be successful. When companies decide to DIY their SEO, they often miss out on the strategies that will make the biggest difference for their business.
How do I choose a Maple Grove SEO company?
Look for expertise and experience, not only in SEO, but in your local area.Watermark Design is based in the I-94 West Corridor and understands Maple Grove and its surrounding communities inside and out.