Virtually all businesses will have their initial interaction with a customer online today – including dental offices. Apart from direct referrals from family and friends, most patients find their dentist through a Google search and an inspection of the practice's website. This is why website design services are so important for dental offices.
It takes just a fraction of a second for users to make a judgment based on the site's design. According to a report from GoodFirms, poor layout and/or functionality could cost you almost half of your potential patients.
There are so many reasons why a visitor might abandon your company's website based on design. Per the GoodFirms report, most commonly people will abandon a site due to slow loading speeds, poor navigation, or simply an outdated look!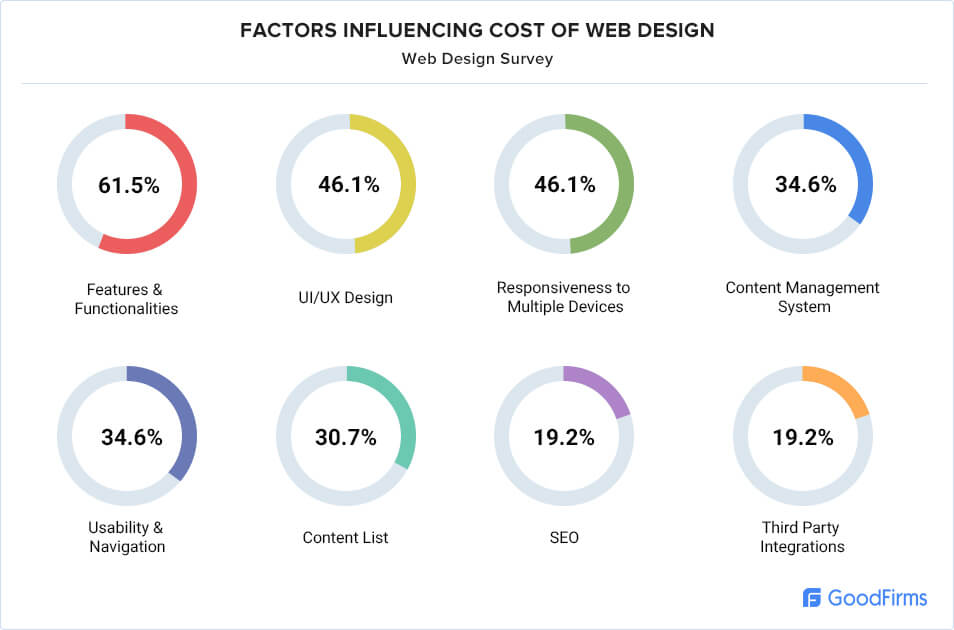 In today's business world, websites are the virtual storefronts of dental offices. Patients should always feel comfortable within a dental practice. Moreover, they should also feel comfortable on the practice's website. If your site does not accurately reflect the type of business you run, it is time to consider investing in professional web design services.
Here are just a few ways that web designing services can vastly improve your dental business's success.
1. Make Strong First Impressions
First impressions matter when it comes to online interactions. Some customers will form an opinion of your business after just seconds of viewing your site and few visitors will interact with a site for more than a minute.
Your home page and key landing pages have to capture each visitor's attention and build trust immediately. Web design services can help you either revamp your current site or start from scratch. The professionals will handle all of the visual elements and layouts to create a site that instantly makes a great first impression.
2. Create a Sense of Exclusivity
There are plenty of services out there that boast about helping businesses create a website in just a few clicks. These platforms use pre-made templates so companies can basically just fill in the blanks with information. While these can help you launch your site quickly, it's difficult to stand out from the crowd with this type of web design service.
This is why so many dentist websites have the same templates, stock images, content, and layouts. Website visitors will pick up on this right away – and it may make them a bit weary of your business.
Designing a professional website is the key to making something different and standing out on the web.
Hiring a custom website design company is worth the investment, as they will create a one-of-a-kind project that is personalized to your business. This gives you full control of how your website looks, what features it offers, and how it operates. In turn, your business will create a perception of exclusivity – rather than a cookie-cutter site.
3. Build Trust with Prospective Patients
Our brain is hardwired to pick up on clues to determine whether or not we are in danger. This applies to our online environments as well. Subconsciously, your brain will be scanning a website to look for elements that build trust or set off red flags – and you need to keep this in mind when building your dental practice's site.
McMaster University published an in-depth study about the psychology of web design. Little design details like color combinations, the amount of white space used, and the overall user experience can make or break a visitor's trust with your business.
A professional design filled with quality content and proper images can do wonders to put prospective patients at ease. These psychological triggers need to be at the forefront of your website design plans – so it's best to work with a team of experts.
4. Create an Online Brand Presence
Establishing your brand as a dental practice is incredibly important. This determines the perception people have about your business, which heavily influences their likelihood of becoming a patient. Since your initial interaction with most leads will be through your website, you need to create a design that effectively communicates your brand values.
Web design is one of the most critical ways to present brand elements, values, personality, and how the practice relates to patients. Again, this comes down to the little design details like the colors you choose, images, and the tone of your written content. Web design services will make sure site that accurately reflects your practice's brand.
5. Get Noticed on Local Searches
There are hundreds of dental offices in each major city and metropolitan area. So, how will future clients find you when they look to Google for a dentist?
A recent survey found that about 43% of people who are actively searching for a new dentist online base their decision on online review ratings. Other deciding factors included proximity, ranking position on the results page (SERPs), and (shocker) which one had the best website design!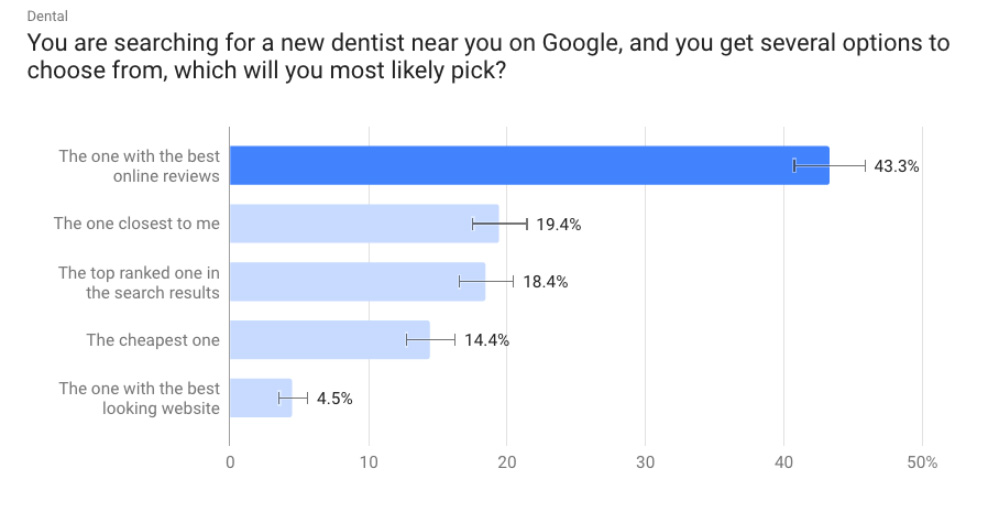 To showcase your reviews and rank well on search engines, your website needs to be built around SEO-friendly design principles. Professional website design services will always pay attention to SEO and incorporate elements and content that will help you rank on searches.
Over to You
Your dental office's website is more important than you may realize. A customized site that makes good first impressions, builds trust, and performs on search will greatly impact the success of your business. Investing in expert web design services is one of the smartest moves you can make.
If you're looking for a full-service website design company to help you get started, get in touch with our team at Watermark Design. We've helped hundreds of small businesses build customized websites that set them apart in their industry.
To learn more about our web design services, contact us today and schedule a meeting with one of our designers!