According to a survey by Engine Scout, featured snippets receive 35.1% of the total click share on SERPs. Featured snippets occupy a significant amount of search space and are utilized in both voice search and regular search.
They are therefore valuable to optimize for! In light of this, here is a brief tutorial on how to appear in a Google highlighted snippet.
What is a featured snippet?
Google has created the "featured snippet box" to make it easier for users to obtain information quickly without going to a website or at the very least to obtain a general idea of a potential response before going to the website for more details. Being featured in a snippet, also is termed as 'Position zero' and 'Rich snippets'.
In many instances, featured snippets are utilized, particularly when there is just one clear solution to a problem or a set of instructions to follow.
For example, search 'What is a featured snippet?' and it will return the following result,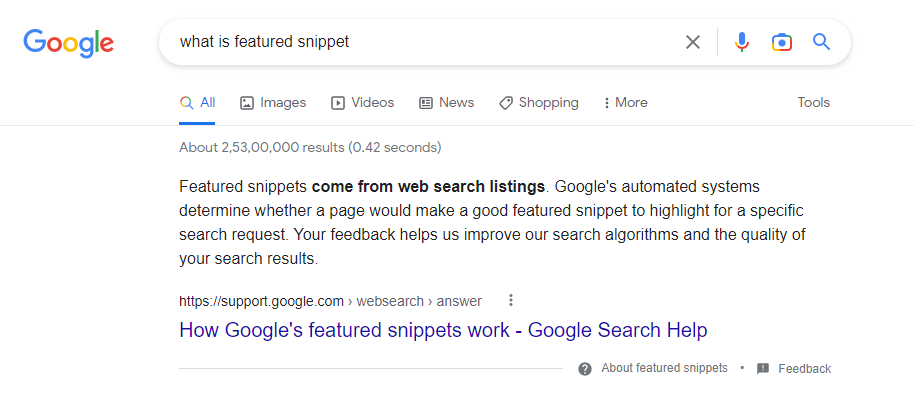 Mobile users can access featured snippets as well, and they are offered in a variety of forms and styles.
In regard to CTR (Click Through Rate), it is clear from the screenshot above that sites that feature in the featured snippet box have a considerable advantage compared to the other sites on the initial page of the SERPs.
The majority of readers will click the highlighted snippet and skip the remaining results.
The fact that Google may display a webpage in a featured snippet box despite it being less "effective" than other websites is what makes this situation more intriguing.
There are four kinds of snippets,
1. Paragraph – The most common kind of featured snippet is this one. They can be displayed as a brief text reply or explanation or as a paragraph of text together with a pertinent image.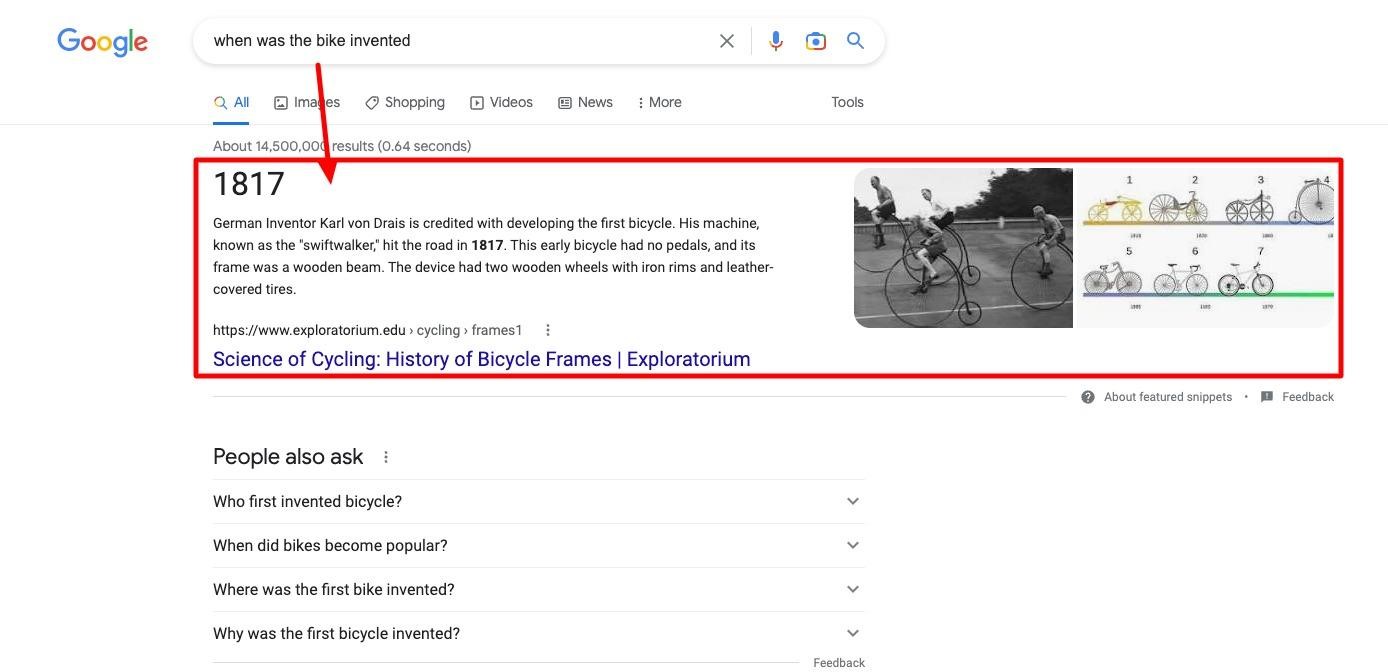 2. Tables – This kind of snippet offers a visual to assist users in data comparison and analysis.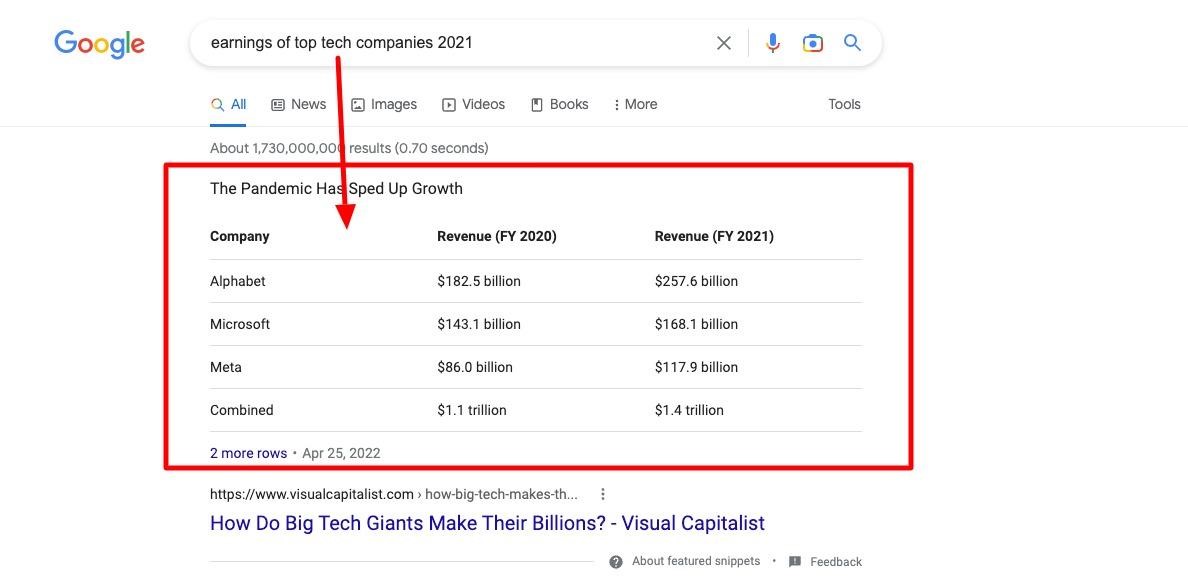 3. Lists – Google will occasionally provide a list snippet. Users find lists to be easier to comprehend and comprehend content. The value of consumers' user experiences (UX) in Google search results is increased when they are given the option to swiftly scan the material. Lists are frequently used to show rankings, outline a procedure, or identify various items. The appearance of bulleted lists can be either sorted or unsorted, ranked or unranked.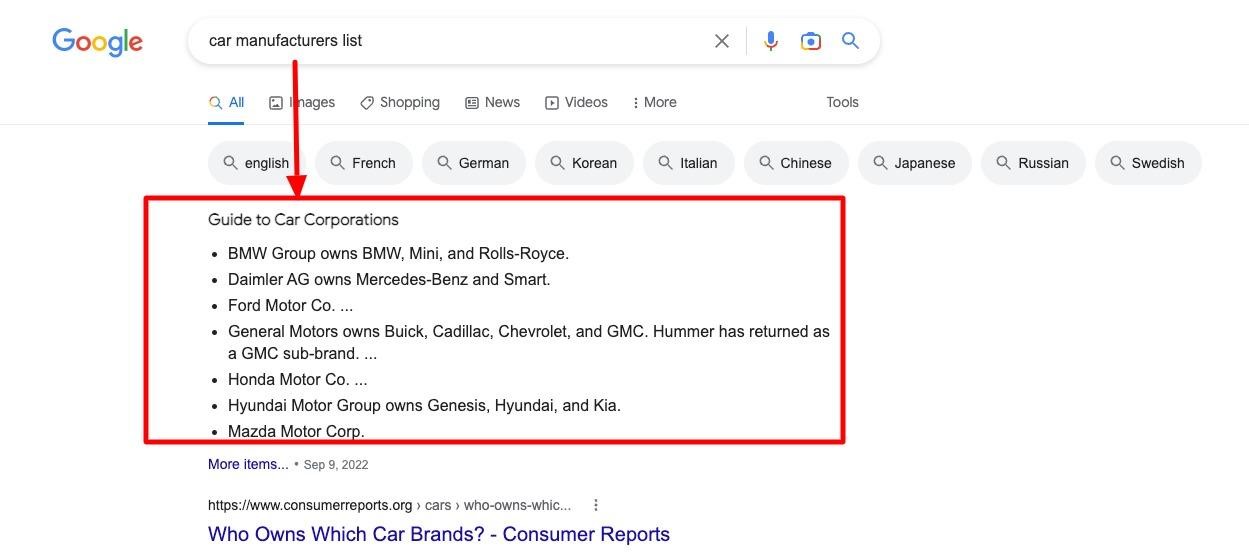 4. Videos – Ranking as a video clip on YouTube, a big worldwide search engine, is another fantastic strategy to increase visitors. How-to or product demonstration videos typically rank as snippets on search engines.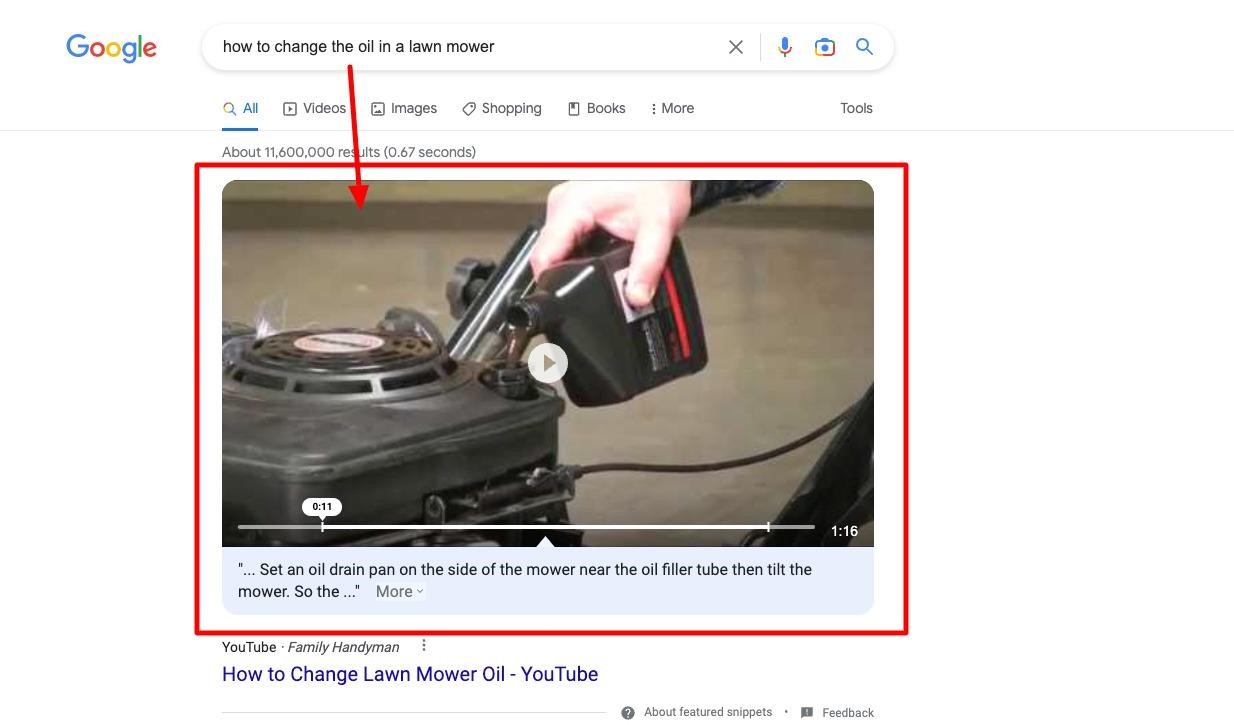 You must first choose the sort of snippet that better represents your topic if you want your content to appear as a snippet in search results on Google. Then, you can arrange and optimize your content in a way that will enhance the likelihood that it will show up as a featured snippet.
How to Rank as a Featured Snippet?
The solution is straightforward: Your content must offer the "best" response to a user's search query. It sounds simple, right? Not quite. Nothing significant is accomplished with such ease. We can set you up for featured snippet success with a little support from our team.
One thing to keep in mind is that Google's algorithms are always evolving. It's possible for another piece of more pertinent information to take the place of a featured snippet that was ranked as such one day (according to algorithmic changes and the SERPs). The most effective approach is to provide high-quality, narrowly focused information. The following are some techniques you can use to demonstrate that your content is the ideal option, even though we can't be sure Google will include it in a featured snippet.
Keywords
You must conduct keyword research if you wish to be considered for featured snippets. In fact, keywords can assist you in figuring out and structuring the type of content you need to produce to achieve position zero. They can also be used to locate queries that are already showing featured snippets. You have two options for conducting this research: manually (by writing search terms and evaluating the results) or through a tool for keyword research. After choosing your target keywords for featured snippets, be sure to monitor your progress.
Incorporate the Question into Your Content
Let's keep things simple for Google's search algorithm. Start by posing the question if you want it to recognise the issue or questions that your content addresses in a pertinent manner. You may unintentionally notify Google that your content has the answer when you use the query as a subhead in your writing. When seeking to show up in voice search, you should follow this advice.
Provide Brief Answers, Then Elaborate!
Although there are many various kinds of featured snippets, all of them are short and factual. Stick to the information if you want to be featured; reserve your thoughts for more audience-targeted and branded material. When it comes to featured snippets, Google looks for information that is fair-minded and objective. Keep it short and to the point is the usual guideline to follow.
A featured snippet's goal is to be simple to find and understand. When considering the word count, keep this in mind. The ideal length for featured snippets on Google is 97 words (or less). Try to stay inside this range with your first, short response.
Visuals: Tables, Diagrams, and Photos
Add a visual to your response, such as a concise list, table, chart, or image, if it is pertinent and beneficial. Google favors structured content because it provides readers with a wealth of information that is organized for quick scanning and has a range of visuals. Use of bulleted lists is an excellent piece of information.
Featured snippets with a high-quality graphic are significantly more beneficial in terms of click-through rates. If your site is chosen by the algorithm, Google will select the most appropriate picture from your website for you because it does not permit you to choose and label the image you want featured. Ensure all of the photographs on your website are of a good standard, branded, and feature annotations in order to be ready for this random pick.
Address and respond to several inquiries
Your chances of getting displayed in another search improve if your content is picked to be featured as a snippet for one query. Thus, inside that same piece of material, you should answer and react to multiple questions that are pertinent to the same topic.
Data
Since it enables search engines to recognise your content and produce rich snippets around that, structured data is crucial for appearing as a featured snippet. You may actually raise your SERP ranks and raise your chances of getting chosen for a featured snippet by including structured data in your content.
Your headings and subtitles are important.
The secret is consistency and organization. Ensure all of your headings and subheadings connect to, are pertinent to, and flow naturally in order to format your content in a logical manner. They ought to make your text easier to read.
Can Websites With Poor Mobile Optimization Have Featured Snippets?
Mobile site optimization is a need if you want to be chosen as a featured snippet. Most people who utilize their smartphones to conduct on-the-go searches use Google's algorithm. Google will choose a highlighted snippet from a mobile-friendly website to give these searchers a smooth user experience. In any case, your chances of ranking in the top 10 SERPs are dramatically reduced if your site isn't mobile-optimized.
Want to Improve Your Ranking and Possibilities of Being Featured Snippets?
There is no doubt that it takes some effort to rank as a featured snippet. The positive news: Your natural SEO efforts are developing and getting better as you work to get the coveted position zero. Win-win situation!
Consult Watermark Design to optimize your SEO efforts, increase rankings, and achieve a featured snippet position. Our SEO team has what it takes to grow your company. To find out more about our services, get in touch with our team of digital marketing experts.