NEW – Build Your Golf Cart Software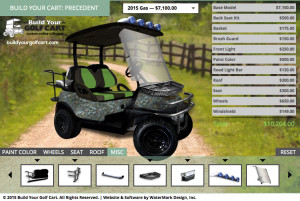 A new tool that will help you close sales with custom golf carts in your shop.
Released  9/28/15 – Try/Get the NEW Build Your Golf Cart Software and subscribe today!
We can have it up and running within your business in a couple weeks.
---
TEST IT OUT BELOW
Build Your Own Custom Golf Cart today!
This past year WaterMark Design enjoyed creating this unique website for All Season Motorsports in West Fargo, ND. Now, customers can see first hand what their custom golf cart will look like before they order it. Have fun designing your own golf cart!
Would you like to sell more custom golf carts?
If so contact us and we can help your customers visualize what they want before they buy. Just ask All Season Motorsports and how the build your own custom golf cart online helped them increase business and satisfied customers. Making it easy and fun to build a custom golf cart online and get real prices!