When looking for places to eat, gas stations, shops for clothes, and other local amenities, many people use the search term "near me." We have shared insights about how to rank for 'near me' searches in this article. This is because people using smartphones are skipping location qualifiers (such as ZIP codes and neighborhoods) since they assume that the GPS will automatically make the results relevant to their area.
The search term "near me" is probably well-known to you since you've probably used it yourself. To focus on local businesses that provide what you're looking for, you can add "near me" to your search query. There is no fixed strategy about how to rank for near me searches but there are some strategies that would be beneficial according to trends.
For instance, a person might be searching for a particular kind of neighborhood restaurant because they are hungry. Simply by typing "restaurants near me" into Google, they will discover what they are looking for! A selection of nearby restaurants that fit your search parameters will be displayed by Google right away.
Are you a local business owner looking to expand your clientele in your area? Then it's time to give some deliberate thought to building a stronger presence using successful local SEO strategies! Know about how to rank for near me searches and understand the strategies mentioned below.
Would you like to appear in NEAR ME searches for your area? Here are some useful tips for improving your company's NEAR ME search visibility:
1. Boost Your Google Business Profile
You must have a Google Business Profile for your business for it to properly display in local search results. It's critical to optimize your profile after setting it up to make sure your business listing appears in Google's local search results. This is not the only option about how to optimize for near me searches but has a lot of impact on almost all types of businesses.
Make sure it contains all the specific information for your business! By failing to confirm the proper address, phone number, business hours, etc., many businesses fall short of their objectives. Additionally, you should make sure to include an eye-catching logo and profile picture as well as information about your business's products and services, service area, appointment booking link, etc. You should also make use of the new "short name" feature that Google has added as part of its recent update. We are trying to share a near me SEO strategy so that you gain new customers for your business from the nearby area.
Additionally, you can update your Google My Business profile more frequently by posting or sharing news and updates with your phone number. Why is it crucial to check that your GMB profile's business information is correct and complete? This will assist in proving to Google that you are a real business with genuine customers.
And it's crucial that your business name and address are accurate and kept up to date if you want to appear in any "near me" searches. If not, you'll just be losing out on customers who look for a business like yours in their near me searches.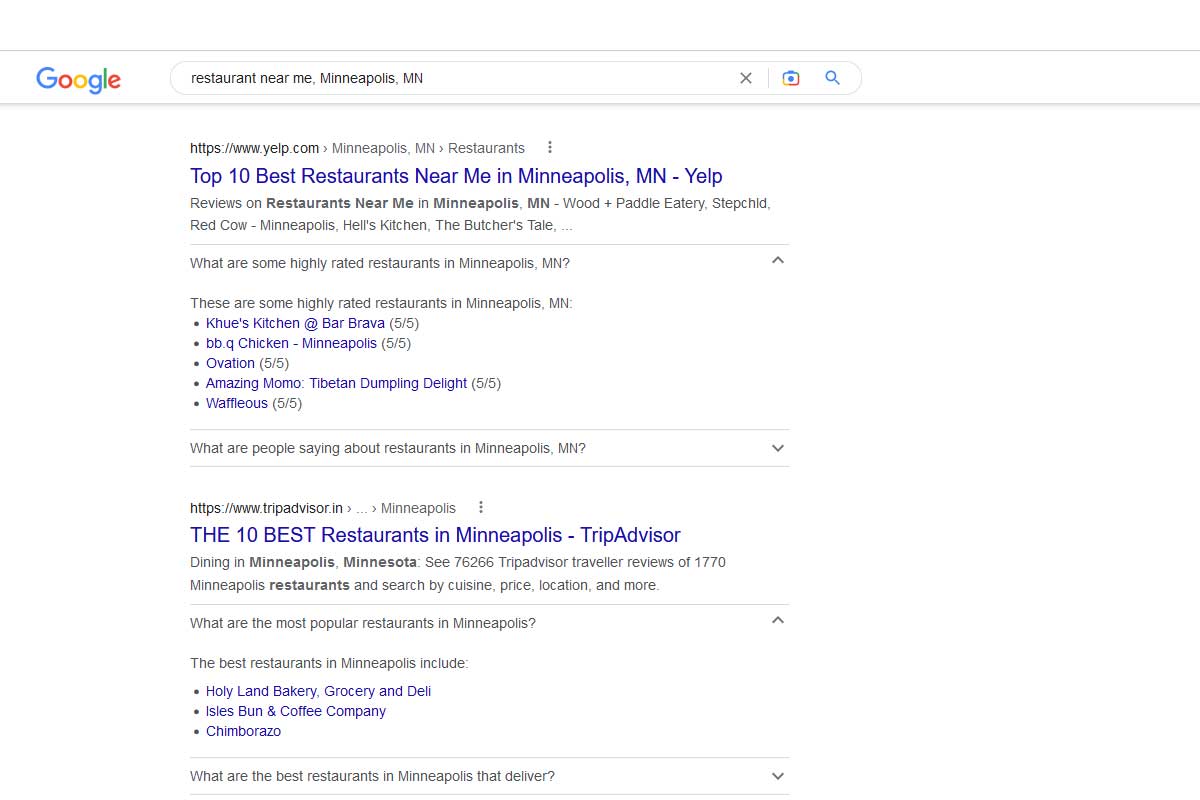 2. Use Schema Markup Appropriately
Search engines can learn more about your company and present it as "rich snippets" in the search results with the aid of schema data. Every location page should have schema markup added by your web developer, along with the business address, contact details, and hours of operation. This strategy is not just about how to optimize for near me searches but has a lot more benefits as well. In fact, this would help in increasing traffic to your website.
You should also include schema markup on the homepage to aid in your company's appearance in the Google Knowledge Graph and present proper business information. Furthermore, the data in the schema markup must match the information on the page.
3. Acquire High Authority & Relevant Backlinks
The local SEO of your website can be significantly improved by backlinks. Your business's rankings for nearby searches can be improved by acquiring high authority and relevant backlinks with geographic "anchor text" (the words that can be clicked on a link). The information about how to optimize for near me searches,
For instance, backlinks with anchor text like "best restaurant in Minneapolis, MN," etc. would be beneficial for a restaurant in Minneapolis, MN.
4. Have A Website That Is Mobile-Friendly
In order to enhance user experience (UX) and rank higher for, near me searches, a website must be quick and simple to use on mobile devices. Here are some practical strategies for optimizing your website for mobile devices:
Quick loading screens
Implement responsive web design
Design a smart UX/UI.
Make use of additional mobile optimizations
5. Develop Local SEO Pages
It's critical to design and optimize a page for each location for businesses with many branches. As an illustration, for near me searches, rather than optimizing a single website for all locations if your organization has offices in five different cities, you should instead construct five location-specific pages. Here are some recommendations for optimizing local pages for near me searches:
Considering your targeted keyword, create the title, content, and meta tags more effectively.
Add appropriate alt tags and title tags to the images used on the page.
Include an appropriate description of your business along with any necessary details, like the menu, store hours, etc.
Utilize a user-friendly and easy URL format.
6. Create Local Content
A blog is an excellent platform for creating and sharing local content that attracts traffic, generates backlinks, and improves organic rankings. You can create a variety of content to attract backlinks, such as arranging interviews with regional influencers so that near me searches for your business get a boost and as a result, your sales would increase from nearby areas.
Additionally, you may run neighborhood polls and frequently post the results on your blog, make a FAQ to guide people in finding the information they need, dedicate a blog post to each query and answer, and do a lot more.
Increase Your Revenue With Local SEO
Your business will have more online visibility for near me search terms by putting these six strategies into action. Businesses, especially those with several locations, cannot afford to ignore local SEO given the rise of local searches.
Are you prepared to implement local search marketing to increase traffic and sales? Schedule your appointment with Watermark Design and get a free quote from us for your requirements. We will provide you with an estimate of what services your website would need to rank higher for local search.