School Mascot Logo Design
For Spectrum High School of Elk River, MN
Our Process:
Spectrum High School contacted me and we talked about what they were looking for in a mascot logo design and what they wanted it to accomplish.
In the mean time, Spectrum had the students submit what they thought the Spectrum Sting should represent in a drawing. Students and staff then voted on the top ideas/drawings.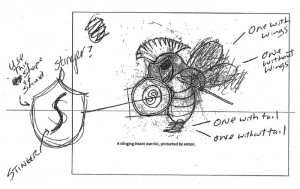 "I have attached both drawings so you can have a better understanding of the direction we are going. I have also attached our logo for school colors. Our goal is to have a mascot that is unique to Spectrum and represents our student body as academically driven, determined and unique. We would like it to be gender neutral, so not to masculine or feminine."
I then asked Spectrum to fill out my logo design questionnaire. Upon receiving the logo design questionnaire back and the students' drawing of a insect/spartan, the consensus was that they would like a creature with a stinger. I then had the task of putting all these things together and giving it some personality.
Working with this theme, several revisions later we had the Spectrum Sting mascot.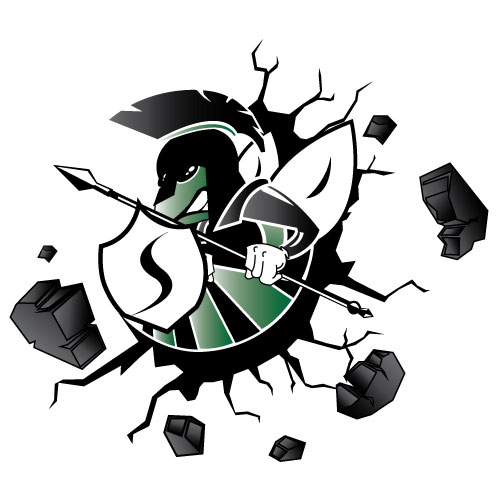 A few months after completion, Spectrum contacted me about a special variation they wanted to use at the unveiling of the mascot to the public. They wanted the mascot be portrayed as breaking through the gym wall. You can see this logo on a banner today if you visit the school gym.
It was a pleasure to work with Sharon, Erin, Vanessta and Brenda. I look forward to working with the staff at Spectrum High School on future projects!
– Mark