Restaurant Website Design that's as Delicious as the Food
Okay, I know what you're thinking websites can't be as delicious as food. You're right. We will design a beautiful website that you're proud of. The website will represent your restaurant well and be simple, clean and user friendly.
Fargo Restaurant Website
www.thebeefsteakclub.com
The Beefsteak Club responsive website design was recently launched in June. They were looking for a new modern responsive website with some special features. Which we accomplished! It was a enjoyable experience to work with Jeff and Keng.
---
A little about The Beefsteak Club: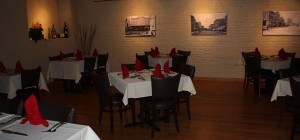 The memories you make at The Beefsteak Club stay with you long after the table's been cleared.
Located in the heart of downtown Fargo the moment you walk in you are greeted with genuine hospitality combined with a calming and relaxing atmosphere.
The Beefsteak Club creates a setting where people truly care about each other. Every meal is crafted with quality ingredients to deliver a taste that you won't forget. Choose from over 100 selections of wine, a custom cocktail or to grill your own steak on our custom grill.
"It's Always a Great Day at The Beefsteak Club!"
---